Waterproof Equipment Cases Make Storage and Transport Easy
Your favorite gear deserves a Vault by Pelican case. Our line of hard gun cases and equipment cases provides you with more protection for your money. Our extremely tough and weather-resistant Pelican vault cases set the standard in gun and equipment case technology. Pelican Vault cases have been Engineered with an optimized blend of materials and production methods, which add up to unmatched confidence and value. All other "off brands" don't hold a candle to our advanced expertise.
Contact us
for more information regarding our tough and rugged Pelican Vault gun and equipment cases today, or call us at 800-445-0002 with any questions that you may have. We also have a convenient
RFQ cart
feature that allows users to add multiple products to their cart and request a quote before finalizing the purchase. Many of our Pelican products can be bought as individual units or in bulk.
Pelican Vault Gun & Equipment Case Features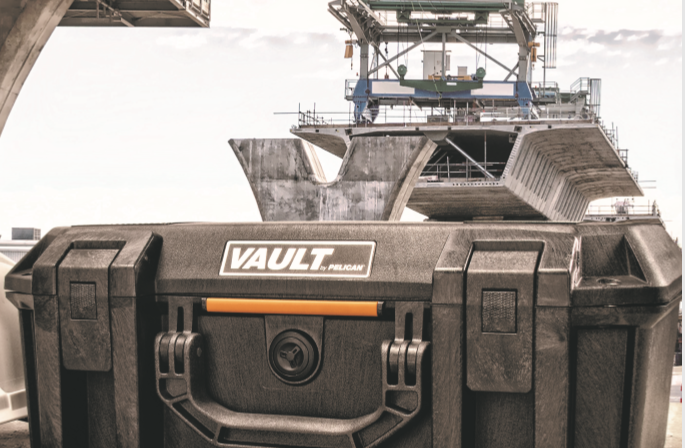 If you have always wanted a Pelican case but had to settle for an imitator, we have some very good news. The new Vault by Pelican line of cases has the features you need at a price you'll love. This heavy-duty equipment and gun cases feature push-button latches, an equalizing purge valve, and stainless steel hardware; all from the brand that invented the first O-ring sealed polymer case 42 years ago. With 3 additional premium case lines, Pelican will protect your gear for a lifetime. Some additional advantages that our Pelican Vault cases provide include:
Push-Button Latches - Provides positive closure and a smooth opening while preventing unintentional disengagement.
Weather Resistant – Moisture and dust preventative design for long-term protection in harsh conditions.
Dust-Proof & Crush-Proof – These cases have been real-world tested and provide tried-and-true resilience and dependability.
High Impact Polymer - Tested and proven tough, with an optimum blend of rigidity and flexibility to protect from impact and cracking.
Stainless Steel Hasps - Detailed reinforced security with additional padlocks for advanced protection.
Heavy Duty Handles - Made extra tough for reliable service, day in and day out.
Pelican Case Options
Pelican Case Line Range
Vault by Pelican
(10 Sizes)
Pelican Storm Case
(28 Sizes)
Pelican Protector Case
(55 sizes)
Pelican Air Case
(10 Sizes)
Case Line Description
Pelicans new dependable case line at a popular price point. Press and pull latches for everyday use.
Our ultra sleek professional-grade case with easy-to-use self locking press and pull latches. Made of HPX resin to absorb impact.
The ultimate case protection, the Pelican Protector Case offers durability like no other reliable and secure double- throw compression latches.
A premium case that's up to 40% lighter than our other cases and drop-tested for toughness with double-throw compression latches
Material
Polyethylene
Polypropylene HPX
Polypropylene
Polypropylene HPX2
Latch Style
Flush Button
Push Button
Compression
Compression
Interior
Solid Foam Only
Foam / Empty / Dividers / Trekpak

Foam / Empty / Dividers / Trekpak

Foam / Empty / Dividers / Trekpak

Colors
Black
Multiple
Multiple
Multiple
Handles
Solid
Double-Layered Soft Grip
Overmolded Rubber
Overmolded Rubber
Reinforced Paldock Hasp
Yes
No
Yes
Yes
Watertight
Yes
Yes
Yes
Yes
Country of Origin
Mexico
Made in USA
Made in USA
Made in USA
Warranty
1 Year
Lifetime
Lifetime
Lifetime
Pelican Protector Cases vs. Pelican Vault Cases
Pelican initially introduced their first line Pelican Protector cases many years ago. Since then they have made numerous improvements to their case designs while providing several new premium features. The Pelican Vault case line showcases these advanced changes with their improved equipment and gun cases. Here are the key differences between the tried-and-true Pelican Protector cases and the new Vault line:
More affordable.
Sleek and sophisticated angular styling on the outer edges.
The Vault cases are currently in testing to establish if they can be designated as "watertight". They have a gasket similar to the Protector line, but until the results have been established, they are officially termed "weather resistant".
Push-button latches instead of the double-throw latches of the Protector line.
Unpadded handles.
Contact R.P. Luce & Company, Inc. for Pelican Vault Cases Today​
Know which part you want? Use our easy RFQ shopping cart to add products to your online account and request a quote before completing the sale. Contact us to learn more about the benefits of owning a premium quality Pelican Vault gun and equipment case, or request a quote for additional pricing information today.