Pelican Air Cases
At up to 40% lighter than other polymer cases, Pelican Air cases will lighten the loads of the dedicated pros around the world who set out to change the game. Pelican Air cases are the first in a series of remarkable innovations engineered by Pelican, the pioneers of protective cases.
R.P Luce supplies innovative, lightweight, protective cases from Pelican that are perfect for all of your applications, from search and rescue missions to airport travel - even
sports and recreation
. Pelican has designed the most innovative protective cases in the world for over 40 years, and we're proud to provide these protective cases that are redefining the future of protection.
Pelican Air Case Features
With inventive features that anticipate the needs of pros from every line of work, the Pelican Air models offer innovation with an equal balance of toughness and lightness. Every pro will discover a more effortless user experience and the perfect model in the Pelican Air product line.
The Pelican Air travel case provides an excellent alternative to traditional luggage without compromising any of the durability. Every Pelican Air travel case has been drop-tested and submerged to guarantee its durability. You can be confident that these travel cases will withstand any damage.
Lightweight Protective Travel Cases
In addition to their lightweight and tough exterior, our Pelican protective cases also feature:
Super-light Proprietary HPX™ Polymer
Proven Tough Double-Throw Latches
Automatic Purge Valve Balances Air Pressure
Watertight O-Ring Gasket
New Style "Conic Curve" Lid Shape
Crushproof and Dustproof
Stainless Steel Hasp Protectors
Rubber Overmolded Handles
New Removable Polycarbonate Card Holder (With Front or Side Placement)
Additional Pelican Air Case Benefits
We know that one size doesn't always fit all when it comes to protective cases. We offer a variety of configurations and customizable inserts to meet your industry needs and protect your valuable equipment and belongings.

All of our Pelican Air travel cases include the following features: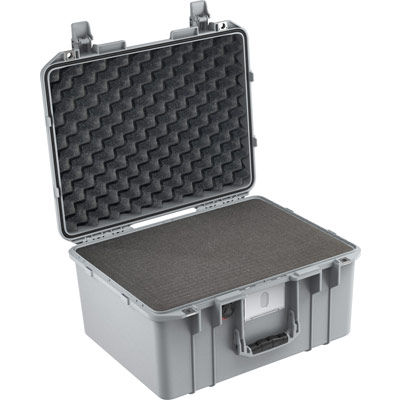 Easy Pick N Pluck Foam
Pelican Air cases have been designed to protect equipment of all kinds, no matter the size or shape. Most Pelican protector cases come with our Pick N Pluck shock-absorbent foam, pre-scored in tiny cubes. The item is placed on the foam, outlined with chalk, and then the cubes around the item are removed to form a secure, protective cocoon.
Divider System
Full Sewn Tub with Felt Exterior
Velcro Compatible Nylex Interior
Elastic Hold Down Straps
Hi-Visibility Yellow Interior
Set Includes: 1 Tub, 2 Large Dividers, 6 Medium Dividers, 3 Small Dividers
Pelican + TrekPak
The TrekPak system uses pre-installed wall sections, divider panels, locking pins, and a fool-proof cutting tool (included). Just lay your gear in the case, measure and cut the divider sections, and lock them in place with the steel U-pins. We include extra divider material so you can change your mind, plus divider panels are also available separately so you can reconfigure your dividers anytime. Available in black cases only
Pelican Air Case Configurations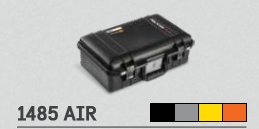 PELICAN CASE: 1485 AIR
Interior dimensions (L x W x D) 17.75" x 10.18" x 6.15" (45.1 x 25.9 x 15.6 cm)
Exterior dimensions (L x W x D) 19.17" x 12.80" x 6.89" (48.7 x 32.5 x 17.5 cm)
4.57 lbs (2.1kg)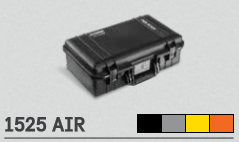 PELICAN CASE: 1525 AIR
Interior dimensions (L x W x D) 20.50" x 11.3" x 6.75" (52.1 x 28.7 x 17.1 cm)
Exterior dimensions (L x W x D) 21.96" x 13.97" x 7.49" (55.8 x 35.5 x 19 cm)
5.99 lbs (2.7 kg)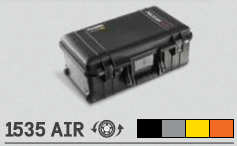 PELICAN CASE: 1535 AIR
Interior Dimensions (L x W x D) 20.39" x 11.20" x 7.20" (51.8 x 28.4 x 18.3 cm)
Exterior dimensions (L x W x D) 21.96" x 13.97" x 8.98" (55.8 x 35.5 x 22.8 cm)
8.69 lbs (3.9 kg)
Maximum airline carry-on size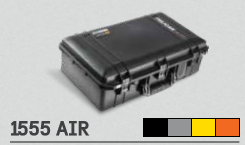 PELICAN CASE:
1555 AIR
Interior dimensions (L x W x D) 23.00" x 12.75" x
7.50"
(58.4 x 32.4 x 19.1 cm)

​
Exterior dimensions (L x W x D) 24.76" x 15.46" x 8.24" (62.9 x 39.3 x 20.9 cm)
7.37 lbs (3.3 kg)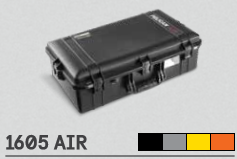 PELICAN CASE: 1605 AIR
Interior dimensions (L x W x D) 26.00" x 14.00" x 8.38" (66 x 35.6 x 21.3 cm)
Exterior dimensions (L x W x D) 28.87" x 16.77" x 9.12" (73.3 x 42.6 x 23.2 cm)
9.28 lbs (4.2 kg)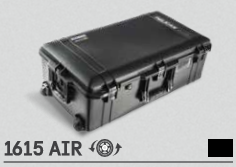 PELICAN CASE: 1615 Air
Interior dimensions (L x W x D) 29.59" x 15.50" x 9.38" (75.2 x 39.4 x 23.8 cm)
Exterior dimensions (L x W x D) 32.58" x 18.40" x 11.02" (82.8 x 46.7 x 28 cm)
14.06 lbs (6.4 kg)
Maximum airline check-in size
RP Luce is an Authorized Pelican Stocking Dealer and Custom Case Solutions Dealer
As a Pelican Authorized Stocking Distributor and Technical Packaging Partner, offering custom solutions, R.P. Luce is an exclusive provider of stock and customized Pelican case products to clients across the Mid-Atlantic states. We provide custom Pelican case solutions for the states of New York, New Jersey, Massachusetts, Connecticut, Pennsylvania and Delaware.
With a long-term relationship of over 25 years with Pelican Cases, R. P. Luce has provided stock and custom carrying, shipping, and storage cases to the medical, military, aerospace, broadcast, communications, sports and recreation, and countless other industries. R.P. Luce & Company is one of several dealers Pelican has designated as their Technical Packaging Partners. We have been trained by Pelican and are their Outside Engineering Specialists. Our engineers can work with you to design and customize the cases you need for your specific application. If you are looking to purchase an extensive stock of Pelican cases, we will quote you the best price for the quantity you need. We offer excellent Customer Service and fast shipping on all orders.
Contact R.P. Luce for Pelican Air Travel Cases
At R.P. Luce, we are dedicated to serving the needs of our customers, offering the lightweight travel experience and other protective, specialized cases you need to protect your belongings. We offer a wide range of configurations for our protective cases.

To find the right Pelican Air case for your application, contact us today. For direct pricing information, request a quote.