Pelican Skid-Mates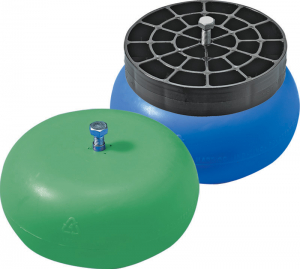 Shock and vibration can cause damage during transport and handling of your fragile or valuable equipment. The Pelican SKID-MATE air-dampened cushions provide maximum protection against shock and vibration, taking the place of wood skid runners and permit four-way pallet entry, making loading and unloading easy. The Pelican SKID-MATE is designed to mount directly to pallet bases with a 5/16" 18 UNC bolt. The SKID-MATE Spacer adds an additional 1 1/8" to the SKID-MATE cushion, increasing the total height to 4 inches, allowing your pallet-loaded freight to accept most pallet jacks.
The SKID-MATE is an air dampened cushioning device that provides a fast, cost effective and durable customized solution to protect sensitive products from shock and vibration. The SKID-MATE can be easily mounted on a crate or pallet base creating an air-ride cush place of hardwood skid runners eliminating the need for expensive air-ride trucks.
Use Skid-Mates to Transport your Loaded Pallets
Skid-Mates are tough and durable and can endure 3000 feet (914 meters) of dragging over concrete and floor joints. Skid-Mates can perform under extreme temperatures, from -40°F to 130°F (-40°C to 54°C). Because Skid-Mates are made of polyethylene, a chemically inert material, they are chemical resistant and yet environmentally friendly, reusable and recyclable.
Choose the Right Size Skid-Mate for Your Application
Skid Mates are color-code by the load range. Choose the right size for the job and protect your valuable cargo from damage due to shock and vibration.